Blog
How Curo can help the NHS improve its clinical waste strategy
Tuesday 21st March
With clinical waste being one of the biggest financial and environmental problems for the NHS, Curo aims to revolutionise how the NHS manages and disposes it. This strategy could generate 54 million kW of energy and save the NHS £200 million every year.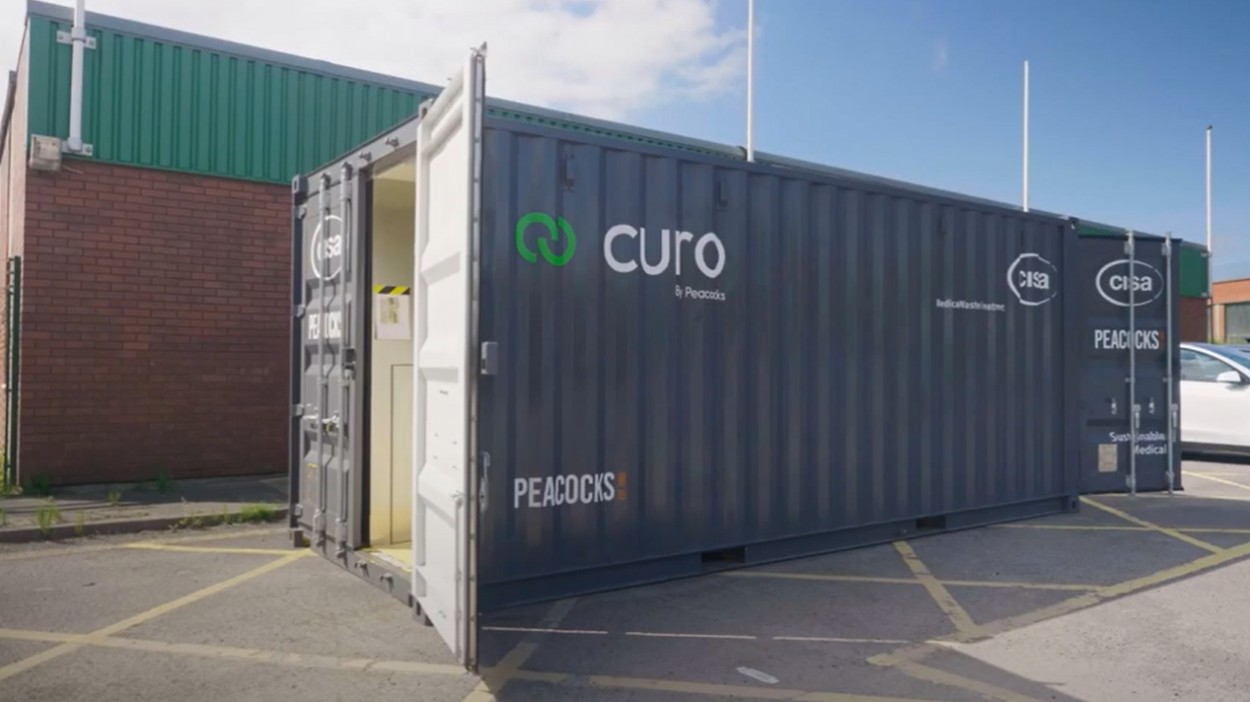 The current NHS clinical waste strategy
The NHS clinical waste strategy aims to transform how clinical waste is managed, by finding innovative ways to reuse waste, eliminating unnecessary waste, and ensuring that it is effectively, efficiently and sustainably processed.
Each year around 156,000 tonnes of clinical waste is created by NHS providers in England, which negatively impacts the environment by contributing to carbon emissions, as well as high running costs. This waste created by the NHS, generates over 108,000 tonnes of CO2 and costs over £373 million every year. In order to offset these emissions, you would need to plant 54 million trees each year.
As one of the largest producers of waste in the country, it is extremely important that the NHS disposes clinical waste in a safe and sustainable manner.
The strategy hopes to generate £11 million each year in revenue savings for the next 10 years by significantly reducing waste volumes. It should also lead to a 30% decrease in carbon emissions, which is important in helping the NHS reach it's target of net zero for direct carbon emissions by 2040, and net zero for indirect carbon emissions by 2045.
What is Curo?
Developed by the NHS, for the NHS, Curo is the only end-to-end sustainable and innovative solution for tackling clinical waste within the NHS. Our aim is to help save the NHS millions of pounds and to reduce clinical waste carbon emissions by up to 100%.
Curo is revolutionising how the NHS tackles its clinical waste problem, making the perfect partner by providing the opportunity to reduce the environmental impact, and helping to tackle one of the biggest financial burdens of hospitals in the UK. As well as significantly reducing waste and carbon emissions, Curo also generates energy by converting clinical waste to RDF (refuse derived fuel).
Peacocks Medical Group - in partnership with Northumbria Healthcare NHS Foundation Trust and CISA - aim to disrupt and update the current ineffective waste system.
Peacocks Medical Group has been suppling medical equipment and services across the UK since 1903. As well as recently winning the regional SME of the Year award, they have also won a prestigious national sustainability in recognition of Curo's innovative solution to reduce clinical waste and carbon emissions within the NHS.
How does Curo work?
By identifying the main challenges with the current waste process – storage, handling and treatment - Curo has created a process to pioneer the future of clinical waste. Curo provides a bespoke process and system that is designed and implemented to each individual Trust or Health Board's requirements.
It uses innovative technology which can be operated on-site by NHS staff with a completely self-contained plug and play solution and compliance software to continuously monitor/report. This technology turns hazardous clinical waste into inert floc and reduces the volume of waste by 70%.
The system can operate and process clinical waste for 24 hours a day, delivering substantial reductions in transportation and waste management costs.
Curo provide end-to-end support and training with the process, including investment decisions. Furthermore, they will assist in completing all project applications, and help and teach internal teams to calculate carbon emissions, and teach NHS staff how to characterise materials.
How can Curo help other trusts in their clinical waste strategy?
Curo gives the opportunity for the NHS to:
Save over £1 billion over 5 years
Significantly reduce clinical waste going to landfill
Reduce the carbon impact of processing clinical waste by up to 100%
Generate 54 million kW of energy per year
For an average UK NHS Trust or Health Board, Curo can:
Reduce production of CO2 to 0kg
Generate 257,000kW of electricity per year
Save over £8 million in 5 years
The cost and time saved every year by Curo could equate to 12,300 new nurses, 198,000,000 patient appointments, and 2,600,000 ambulance deployments for the NHS, which shows how positive of an impact that Curo could make not only for a single trust, but nation-wide.
Additional benefits Curo have to offer include:
Meeting EA and other regulations such as five-day disposal requirements
Reducing the requirement for high-polluting lorries to transport the waste to landfill
Converting waste into power and materials
Generating revenue by selling additional energy
Reporting and monitoring the financial and environmental impact of waste
Giving control of the clinical waste process to the trust
Curo also have plans for future improvements, hoping to benefit the NHS in other ways:
Increased range of waste processed such as sharps and hazardous waste
Ability to generate considerable new income streams
Future material usage and procurement
Further technology advancement in usage
Conclusion
In conclusion, Curo's innovative solution can play a massive part in helping the NHS to not only improve, but revolutionise their clinical waste disposal strategy.
By supporting and guiding NHS trusts through their process, Curo can help to save £millions, significantly reduce clinical waste and carbon emissions, and generate energy over 250,000kW of energy for the average trust every year. This will support the NHS to reach and overwhelmingly exceed their targets of improving its positive impact on the environment and saving money in the next few years.
Making waste. Work.
Working in partnership towards a greener NHS, the waste revolution starts here.
Let's get to work