Article
Innovative carbon reduction solution for NHS earns the Peacock Group national award
Tuesday 7th March
Following on from the recent success of winning the regional SME of the Year award, Newcastle-based Peacock Group has won a prestigious national sustainability award in recognition of its new, innovative solution to reduce carbon emissions within the NHS.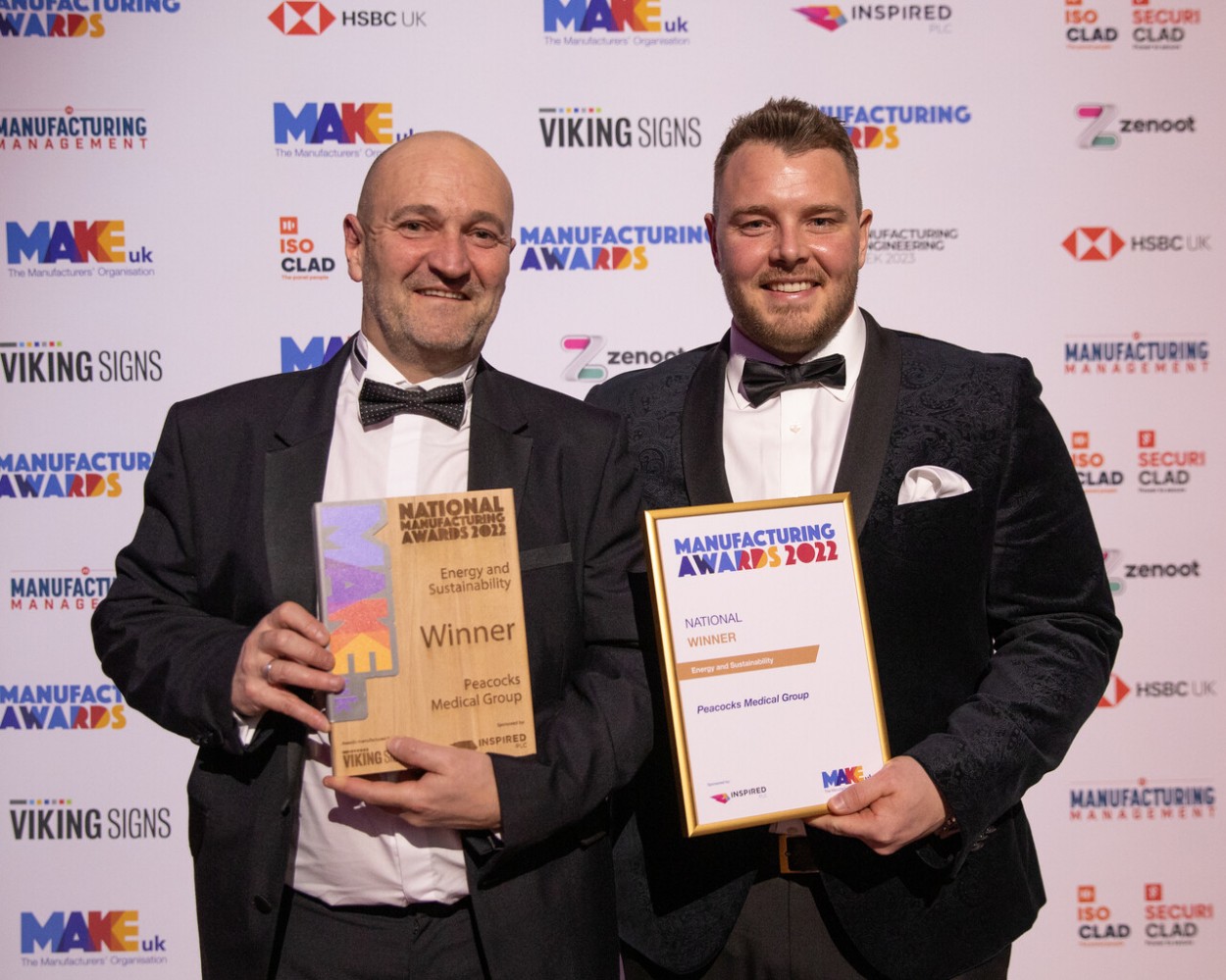 One of the largest independent healthcare service and manufacturing companies in the UK, Peacocks was named the overall winner of the Energy and Sustainability category at the national Make UK Manufacturing Awards for its product Curo.
Curo provides the NHS with an onsite sustainable solution to process clinical waste, resulting in up to 100% reduction in carbon emissions.
Developed in partnership with Northumbria Healthcare NHS Foundation Trust, Curo has the potential to save the NHS more than one billion pounds over five years and help deliver its aim to be the world's first net zero national health service.
Chris Peacock, Owner of the Peacock Group, said: "Reducing waste and cutting carbon emissions is one of the biggest challenges facing the NHS and its ability to reach net zero by 2040.
"Having worked with the NHS for many years, we wanted to develop a green and sustainable way to manage medical and clinical waste, which currently costs the NHS £373 million a year and generates 108,000 tonnes of CO2 every year.
"Working with Northumbria Healthcare NHS Foundation Trust, we've created a unique solution that completely transforms the clinical waste process; turning infectious clinical waste into a completely harmless and sterile material on-site. This not only irradicates the need for onward transportation and treatment, but also creates the potential for new revenue streams and cost savings for hospitals in recycling and energy.
"It's an honour to be recognised by Make UK in this hugely competitive category that celebrates innovation in sustainability and manufacturing."
It is currently being operated at several sites within the NHS, including Northumbria Healthcare NHS Foundation Trust.
Veronica Gingell, Head of Business Services at Northumbria Healthcare NHS Foundation Trust, said, "I'm delighted that this hard work between Peacocks and Northumbria Healthcare NHS Foundation Trust has been recognised through this prestigious award. This demonstrates how dedicated we are to helping the NHS reach its Green Plan to be net zero by 2040.
"As a forward-thinking trust we are constantly aiming to reduce our carbon footprint and Curo is a brilliant example of this; turning clinical waste into environmentally sustainable products and processing clinical waste directly on site instead of going to landfill, reducing carbon emissions produced."
The Make UK Manufacturing Awards celebrate the achievements of manufactures across the UK. Peacocks won two awards at the 2022 North East, Yorkshire and Humberside Awards before progressing to the national awards in London. This most recent national award marks the second time Peacocks has been recognised at the Make UK Manufacturing Awards, having won the national Health and Safety category in 2021
Making waste. Work.
Working in partnership towards a greener NHS, the waste revolution starts here.
Let's get to work